---
MILTON MOON AM in his workshop at Summertown in 1990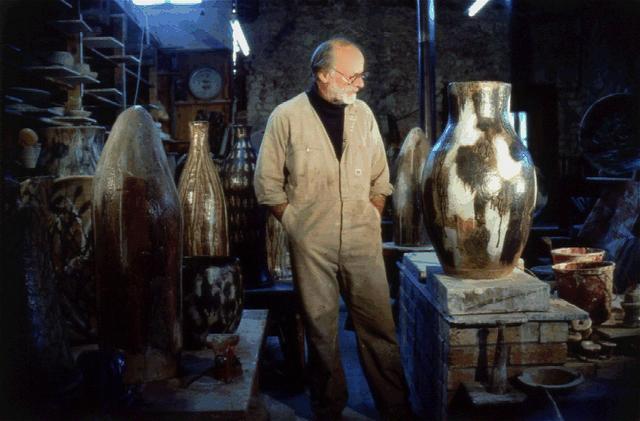 In this, my 'ninety second year,' over sixty of which I have been a potter, I remain concerned, if a little obsessed, with the challenge of making pots, which although belonging to a ceramic tradition of some eight thousand years or more, are undeniably and uniquely Australian. With all my changes of expression this has remained constant.
The initial creative inspirations were drawn from the beauty of the coastal areas of Eastern Australia and from the mountain areas of the Great Dividing Range which stretch from North Queensland to the extreme South of Victoria. But the most lasting inspiration has come from the inland of Australia, more particularly from the Gammon and Flinders Ranges and from the Olary Uplands of South Australia, and more recently the Pilbara and Kimberley areas of Western Australia, where rock engravings place them as being amongst the oldest marks left by human-kind anywhere in the world.
All parts of Australia are full of an ancient history stretching back through time and which today, despite white settlement, somehow still survives in legend and ritual. If it is the case that these legends do now only exist, in some muted half-life there is still the sense that they remain as a very powerful 'spirit - presence.' It is impossible to ignore the feeling that this country remains inhabited by the past. For me it is also impossible not to creatively respond to the echoes of the past, even if only through the somewhat vague process of inspiration and distillation. To understand this spirit, even a little, is a privilege but to try an express it is a compelling endeavour.
Born Melbourne,Australia. 1926.After discharge from Navy Service in l947 lived first in Queensland and then in New South Wales until 1949 at which time he returned to Brisbane in Queensland. Studied painting and drawing at the Central Technical College and then privately with Margaret Cilento, l949 to l951. First became interested in pottery in 1950 and was taught wheel-throwing by Mervyn Feeney, a traditional potter living in Brisbane. Was also employed in Broadcasting and later Television from 1947 to1962. In 1962 he became Senior Pottery Instructor with the Department of Technical Education, Brisbane,Queensland. In 1967 - 68, Art tutor, Architecture Department, University of Queensland. In 1969 became Senior Lecturer, Head of Ceramics at the South Australian School of Art. In 1975 resigned from lecturing to work full-time at Summertown in the Adelaide Hills where he and his wife established a workshop,home and gallery in a restored 1850's stone mill. Twenty years later, in 1995, relocated to Adelaide.
Milton Moon has been both lecturer and practising potter. He has studied in many countries. In 1965 he was a recipient of a foundation Winston Churchill Fellowship. For the period of 1974 he lived and studied in Japan as a Myer Foundation Geijutsu Fellow. Served as a member of the Australian Japan Foundation from 1976 to l98l.
As one of Australia's most senior potters, in the 1984 Queen's Birthday Honours Milton Moon was made a Member of the Order of Australia. In l991 he was accorded a retrospective of his work, covering a period of thirty-five years, at the Art Gallery of South Australia. In l990 was made a Life Member of the South Australian Crafts Council and in 1992 was a recipient of an Advance Australia Foundation Award. In l993, for a period of five years he was a recipient of the most prestigious of art awards given by the Australian Government, a Creative Fellowship. In 2006 he was conferred an honorary doctorate (DUniv) from the University of South Australia. In 2013 he was a recipient of a lifetime achievement award from the Premier of South Australia.
Study travel has been undertaken in the United States, Mexico, United Kingdom, Denmark, Sweden, Norway, Finland, Germany, Belgium, France, Switzerland, Italy, Spain, Greece, Iran, Japan and Korea.
October 2015. Made a Member of Honour of the International Academy of Ceramics
Exhibition and book launch 2010. Mossgreen Gallery, Melbourne. Peter Pinson Gallery, Sydney. Aptos Cruz Gallery, Adelaide.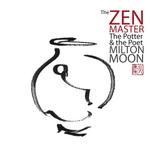 ---